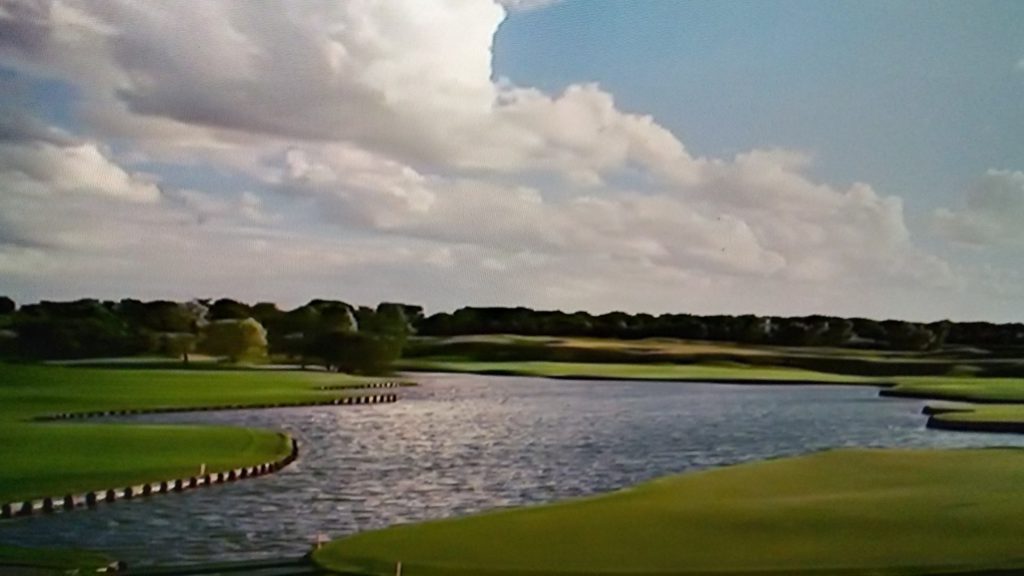 This week in golf, the 2018 Ryder Cup will be played at the Albatros course of Le Golf National, just outside of Paris, France. The United States currently maintains posession of the Ryder Cup, having won the last time the matches were held at Hazeltine in Minnesota. The European Team must win the matches outright to regain posession of the Ryder Cup.
2018 Ryder Cup Video Preview

Video Courtesy of Ryder Cup
United States Team
Captain
Jim Furyk
Vice-Captains
David Duval
Zach Johnson
Matt Kuchar
Davis Love, III
Steve Stricker
Qualifying Players
Rickie Fowler
Dustin Johnson
Brooks Koepka
Patrick Reed
Webb Simpson
Jordan Spieth
Justin Thomas
Bubba Watson
Captain's Picks
Bryson DeChambeau
Tony Finau
Phil Mickelson
Tiger Woods
European Team
Captain
Thomas Bjorn
Vice-Captains
Luke Donald
Padraig Harrington
Robert Karlsson
Graeme McDowell
Lee Westwood
Qualifying Players
Tommy Fleetwood
Tyrrell Hatton
Rory McIlroy
Francesco Molinari
Alex Noren
Thorbjørn Oleson
Jon Rahm
Justin Rose
Captain's Picks
Paul Casey
Sergio Garcia
Ian Poulter
Henrik Stenson
Le Golf National
Le Golf National Video Preview

Video Courtesy of Golfing World
Scorecard
Hole	 1   2   3   4   5   6   7   8   9  Out
Par	 4   3   5   4   4   4   4   3   5   36
Yards   419 210 558 486 405 380 457 208 579 3702

Hole	10  11  12  13  14  15  16  17  18   In  Total
Par	 4   3   4   4   5   4   3   4   4   35    71
Yards	375 178 433 415 544 408 177 480 471 3481  7183
Match Formats
The Ryder Cup is played at match play where the lowest score wins the hole. The player or side that wins the most holes is the winner of that match. Teams receive one point for each match won. Each team receives one half point in the event a match is tied, also known as "halved."
Four-ball
This format is also known as better ball. Each player plays the hole with his own ball and the lowest score is the team score for the hole.
Foursomes
This format is also known as alternate shot. Players take turns playing one ball on the hole. One player tees off and then his teammate hits the second shot, alternating until the hole is finished or conceded. The players also alternate who tees off on each hole.
Singles
One-on-one matches where each team must use all players for a total of 12 matches.
Friday Morning Four-Ball Lineup (All Times EST)
Match 1
8:10 AM Tee Time
Justin Rose/Jon Rahm vs. Tony Finau/Brooks Koepka
Match 2
8:25 AM Tee Time
Rory McIlroy/Thorbjørn Olesen vs. Dustin Johnson/Rickie Fowler
Match 3
8:40 AM Tee Time
Paul Casey/Tyrell Hatton vs. Justin Thomas/Jordan Spieth
Match 4
8:55 AM Tee Time
Francesco Molinari/Tommy Fleetwood vs. Tiger Woods/Patrick Reed
Broadcast Coverage
Television Coverage (All Times EST)
Friday     September 28th	2:00 AM-1:00 PM		Golf Channel
Saturday   September 29th	2:00-3:00 AM		Golf Channel
				3:00 AM-1:00 PM		    NBC
Sunday     September 30th	6:00 AM-1:00 PM		    NBC
Streaming Coverage From rydercup.com And Ryder Cup Apps (All Times EST)
Friday     September 28th	2:00 AM-1:00 PM		Ryder Cup Live
Saturday   September 29th	2:00 AM-1:00 PM		Ryder Cup Live
Sunday     September 30th	5:30 AM-1:00 PM		Ryder Cup Live
Radio Coverage (All Times EST)
Friday     September 28th	2:00 AM-1:00 PM		SiriusXM Ryder Cup Radio
Saturday   September 29th	2:00 AM-1:00 PM		SiriusXM Ryder Cup Radio
Sunday     September 30th	6:00 AM-1:00 PM		SiriusXM Ryder Cup Radio